Alice Ho Miu Ling Nethersole Nursing Home (ANNH)
Research & Publication
2/F - 6/F, & partial of 7/F,
Kowloon Bay Health Centre
9 Kai Yan Street, Kowloon Bay
Kowloon, Hong Kong
Training & Activities
Happy Lunar New Year
(4 pictures)
Easter Celebration
(2 pictures)
Celebrations for Father and Mother's Day
(4 pictures)
Dragon boat festival
(2 pictures)
Seasonal food tasting
(3 pictures)
Mid-Autumn Festival
(3 pictures)
2/F - 6/F, & partial of 7/F,
Kowloon Bay Health Centre
9 Kai Yan Street, Kowloon Bay
Kowloon, Hong Kong
Our Services
1.
Medical Care
Resident Medical and Health Officers provide medical and geriatric care, diagnosis and treatment, and makes referrals to other hospitals, if required. ANNH has a close connection with the nearby district hospital, to provide seamless medical services to the residents.
2.
Nursing Care
24-hour nursing care are provided by professional nurses, in areas such as individual assessment and formulation of individualized care plan; aiming to provide holistic resident care in physical, psychological, social and spiritual aspects.
3.
Rehabilitation Services
Physiotherapist provides individual assessment and formulation of rehab plan for each resident, to improve or maintain the physiological and physical functions, as well as psychological needs of residents, so as to enhance their general well-being. Occupational Therapist enhances resident's self-image through various types of therapeutic activities which help residents with difficulties in self-care, work and leisure.
4.
Integrated Dementia Care Unit
The Unit was made possible with the financial support of the Board of Governors. Different professionals of our Home and the appointed architect worked together to design the Unit. The Chinese oriented design and homely furnishings are for residents' easy identification.
A multi-sensory room, a wandering pathway, a reminiscence aisle, a reminiscence room, an interactive aquarium picture and a podium garden have been set up to facilitate a variety of therapeutic activities.
In view of the increasing number of residents with physical deterioration, Occupational Therapy and Social Work Departments co-organize different types of therapeutic groups and training for the frail and demented residents.
For residents with deteriorated memory, we provide reality orientation programme, reminiscence sharing and sensory training.
5.
Nutrition and speech therapy services
A balanced diet menu is designed by the Dietitian. Nutritional assessments and recommendations are provided for those in need. In addition, Speech Therapist will evaluate the ability to swallow and speak, provide swallowing training for the residents.
6.
Social and Recreational Activities
Social Workers provide counselling services, caring groups services, various types of indoor and outdoor activities and minor purchase services to the residents, to cater the residents' psychosocial needs.
7.
End-of-life Care Service
We have launched the End-of-life Care service to facilitate residents who have advanced-stage disease or incurable disease to rest in peace with dignity in the environment familiar to him/her and the family and friends. Meanwhile, we also provide family members with appropriate grief counselling, funeral support, etc. Beginning with the participation of the service, our team will always be with the family to provide support to relieve their psychological pressure in the process.
8.
Chaplaincy Service
Our Chaplain provides individual spiritual care and counselling services to the residents. The Chaplain will also arrange different religious activities, such as midday worships, fellowships, and volunteer visits according to the preference of residents. The Chaplain endeavours to bring new elements into the service in order to accommodate the changing needs of our residents.
9.
Other Services
_
Outpatient Follow-up Escort Services
_
In-house Dispensary Services
_
In-house Laundry Services
10.
Facilities
Electric beds with remote control, residents can self-adjust their beds to comfortable angles and height
Individual wardrobe and bedside locker
Safe and comfortable geriatric chairs
Call bell directly linked to Nurse Station
Comfortable and spacious environment with audio-visual equipment, variety TV programmes, air-conditioning and special armchairs for frail residents
Equipped with advanced equipment for assessment and training, muscle strength, balance, coordination, joint activity, chest function and various analgesics
_
Occupational Therapy Activity Room
Equipped with eye-hand coordination, small muscle activity, sitting pressure and cognitive assessment and training equipment
A rehabilitation garden to achieve therapeutic effects through horticultural treatment activities and healing power of plants
Multi-sensory Room
Flat Roof Garden
Interview Room
Vehicle with wheelchair lifter
2/F - 6/F, & partial of 7/F,
Kowloon Bay Health Centre
9 Kai Yan Street, Kowloon Bay
Kowloon, Hong Kong
Our Team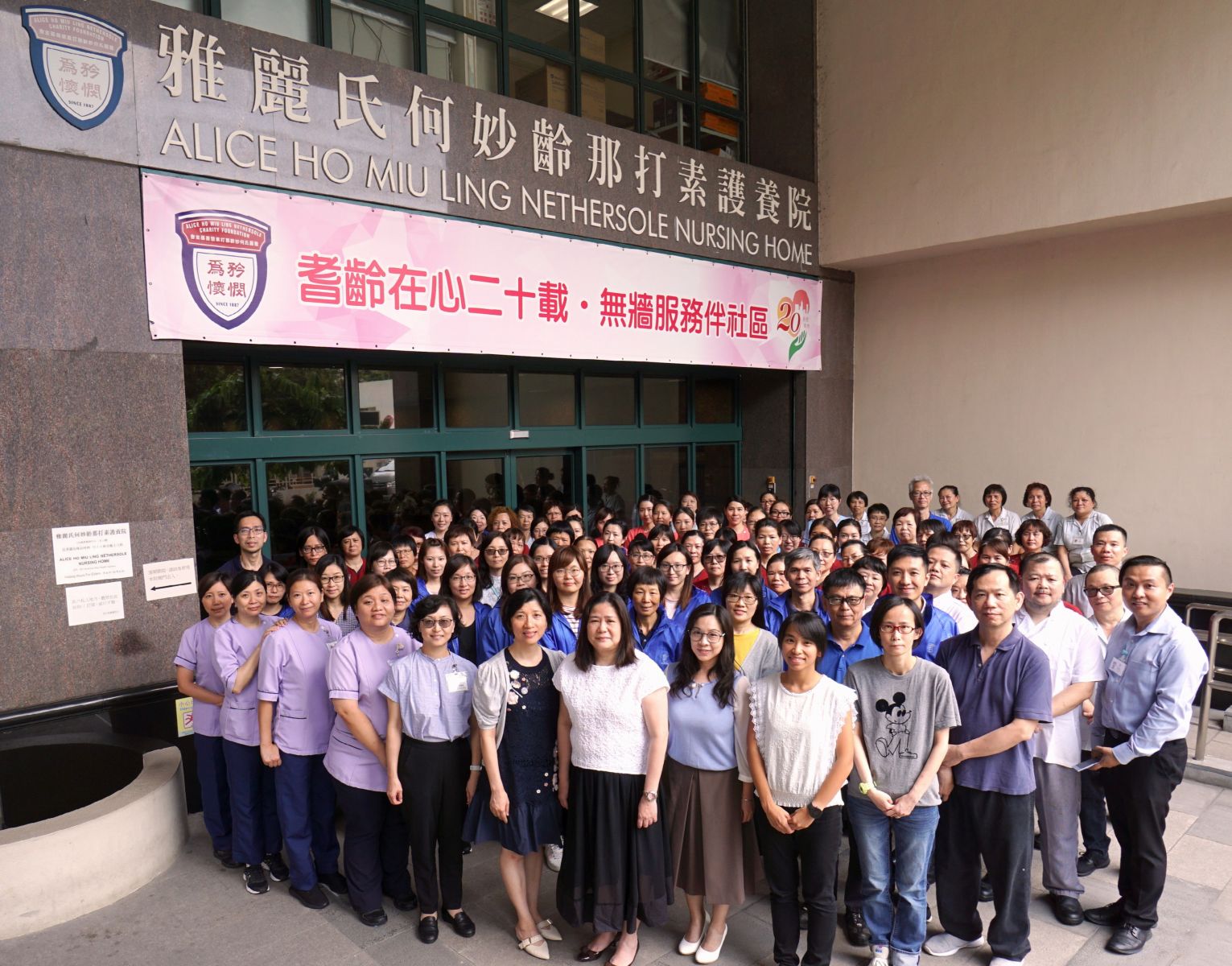 Resident Service Coordination Manager
Facilities and Project Manager
Administrative Supervisor
Medical and Health Officer
Resident Service Managers
2/F - 6/F, & partial of 7/F,
Kowloon Bay Health Centre
9 Kai Yan Street, Kowloon Bay
Kowloon, Hong Kong
Introduction
Introduction
Commencing service in early May 1999, located at 2/F – 7/F of the Kowloon Bay Health Centre, and with a floor area of 8,070 square meters, the Alice Ho Miu Ling Nethersole Nursing Home (ANNH) is providing 238 government-subvented beds, and long-term medical, nursing care and residence to those needed senior citizens at the age of 65 or above.
Mission
Inheriting the Nethersole culture of "Caring with Compassionate Love", we are committed to the provision of "Holistic Care" with the Love of Christ, so that elders can enjoy a meaningful and dignified life.
Core Values
To focus on elders' physical, psychological, social and spiritual aspects in providing "Holistic Care".
All staff work closely to enhance "Team Spirit" for the benefit of elders and to provide "Quality Service" with a caring attitude.
Through "Continuous Learning" and "Evidence Base Approach" we are able to add new elements to our service for "Continuous Improvement".
Goals
To provide a warm home to elders for a healthy and enjoyable life;
To provide holistic care by closely monitoring personal health, and formulate individualized rehabilitation exercises to enhance better quality of life;
To foster friendship amongst elders, and to provide them with health education, counselling services as well as recreational activities;
To respect elders' individual freedom and privacy;
To facilitate communication and mutual support amongst elders, relative and the Home;
To provide spiritual care for elders and to support them with peace, joyfulness, eternal life and hope for the enjoyment of enriched lives;
To facilitate residents who have advanced-stage disease or incurable disease to pass away peacefully and comfortably with their family members and friends in a familiar and warm environment; and
To promote a "Care for the Carer" culture, which is conducive to the fostering of team spirit and the delivery of "Care with Compassionate Love".
Target
Senior citizens aged 65 or above
Requiring regular medical and nursing care, without communicable diseases
Mentally fit for communal living and having no persistent tendency to violence, or disruptive behavior
Types of Residential places
Long-term residential placement: assessed by the Standardized Care Need Assessment Mechanism for elderly services under the Social Welfare Department (SWD)
Emergency placement: referred by Social Worker, with the needs of temporary or short-term residential care service
Admission and Withdrawal Procedure
Application of admission can be made via Social Welfare Department's Family Service Centre or via referral of Social Workers of Non-governmental Organizations. If a resident needs to request for withdrawal, they must notify our Home in writing one month in advance.
Fees
Monthly fees as per the guidelines set forth by the Social Welfare Department (excluding personal medical and miscellaneous expenses).
Visiting Hours
8 a.m. to 8 p.m.
(Visitors are required to comply with infection control measures as instructed by our staff)
Transportation
Buses

Bus No: 5D、15A、107、108、224X、641 (stop at Wan Chiu Road)
All buses passing Kwun Tong Road (stop at Kai Yip Estate, then walk about 5-10 minutes)

Mini-buses

No. 46, 51M, 56 and 87 to Richland Gardens
2/F - 6/F, & partial of 7/F,
Kowloon Bay Health Centre
9 Kai Yan Street, Kowloon Bay
Kowloon, Hong Kong